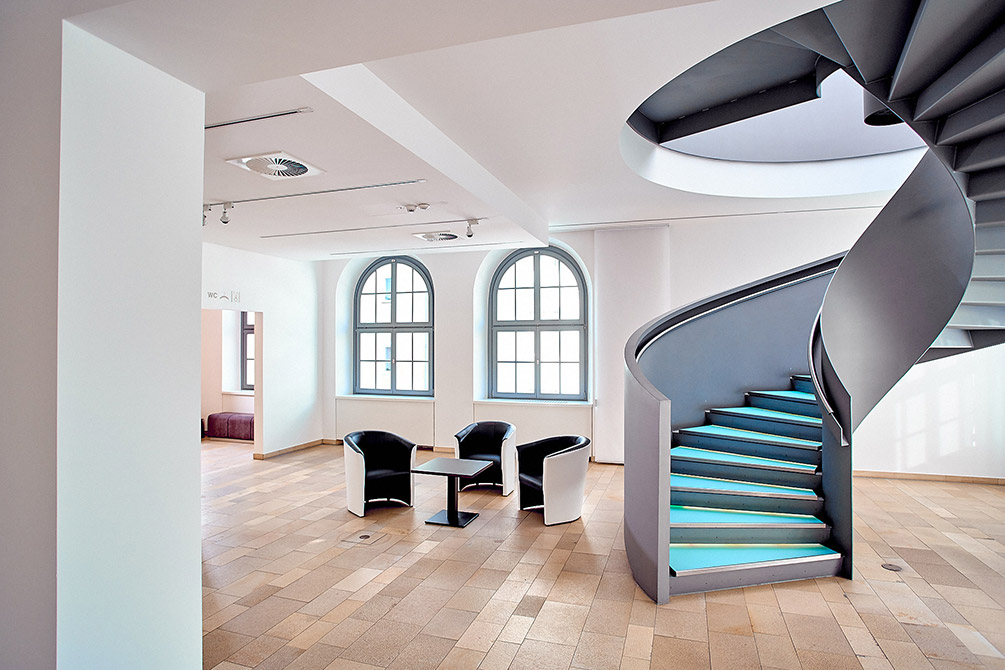 All exhibition rooms of the German Watch Museum Glashütte are accessible.
Journey:
By car
There is a disabled parking space behind the museum building on Schillerstraße.
By bus/train
The stops are accessible.
The route from the bus/train station to the museum is approx. 300 m and is accessible.
Entrance to the museum:
The museum is accessed via an outside staircase with 15 steps. The entrance doorconsists of two doors to be opened manually.
The accessible entrance to the museum is located at the side entrance of the museum (glass extension on Schillerstraße). There is no public access – please ring the bell. The museum staff will accompany you into the exhibition rooms via the lift.
In the museum:
The way up to the exhibition rooms is via a lit spiral staircase with 24 steps. Exit to the lower level is in two parts – a wooden staircase with five steps, followed by a stone staircase with 19 steps.
Inside the building, you can move independently between the two levels using the lift.
Information about the lift:
Door width min. 90 cm
No steps to entrance
Lift floor area min. 110 × 140 cm
Seating is available in the exhibitions depending on the spatial conditions. In the special exhibition, mobile stools are available.
There is an accessible toilet on the ground floor:
Door width 94 cm
No steps to entrance
Space for movement in front of the toilet bowl 133 x 125 cm
Space on the right beside the toilet bowl 130 cm
Foldable handles available on the toilet bowl
To help you enjoy your visit, the following objects are available to borrow from the museum:
Walker
Reading glasses (+1.5/+2.0)