If we take time, time gives us something in return.
Guided tours in the museum
Experience a guided journey through time, through 175 years of the Glashütte art of watchmaking, in the permanent exhibition of the German Watch Museum Glashütte. Whether you are a technophile, interested in history or simply curious – we will be happy to adapt our guided tour to your interests. Simply specify what you want when you sign up.
Subject to following conditions, reservations for guided tours can be booked for dates after August 1, 2020.
Please sign up early for all guided tours.
Telephone: +49 35053-4612102
Fax: +49 35053-4612199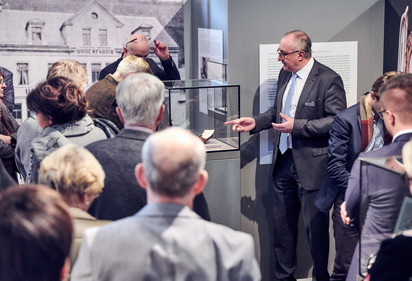 Group: 1 to max. 20 people
Duration: Approx. 90 min
Price: EUR 75 plus entry per person
Other languages may be available upon consultation.
Registration required (subject to following conditions for dates after August 1, 2020).